Jana from "Thinking Out Loud" nominated my new blog for the Versatile Blogger Award last week and I just figured out how to thank her and post her button! She has an awesome blog and if you click her button, you will find that out yourself!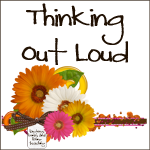 As part of the award, I am to list 7 interesting things about myself... Hmmmm...
1. My favorite foods are finger foods. I could make an entire meal of appetizers....
2. My husband and I traveled to Prague in the Czech Republic last year to visit our daughter who was studying there and we will be traveling to Rome this spring to visit our son who is studying there this year!
3. I love flowers - especially the ones I grow in my garden!
4. I would SO MUCH rather do my arts and crafts than clean my house, do laundry, and cook!
5. My parents are the most wonderful people in the world and instilled in me a zest for life that keeps me focused on the positive.
6. My husband and my kids are my life lines!
7. I like to to do aerobics - both land and water!
Another rule is to list some newly discovered blogs.... I plan to do this in stages because I am just beginning this blogging adventure! Here are a few - some that I have been following and some that I discovered today!
1. Can Do Kinders
http://www.candokinders.blogspot.com/
2. Under the Alphabet Tree
http://underthealphabettree.blogspot.com/
3. Kindergarten Kiosk
http://kindergartenkiosk.blogspot.com/
4. Mrs. Miner's Monkey Business
http://www.kindergartenmonkeybusiness.blogspot.com/
5. Mrs. Jump's Class
http://mrsjumpsclass.blogspot.com/
6. Growing Kinders
http://growingkinders.blogspot.com/
7. Mrs. Johnson's First Grade
http://mrsjohnsonsfirstgrade.blogspot.com/
So that is it for now..... Now I need to get that laundry finished! :)